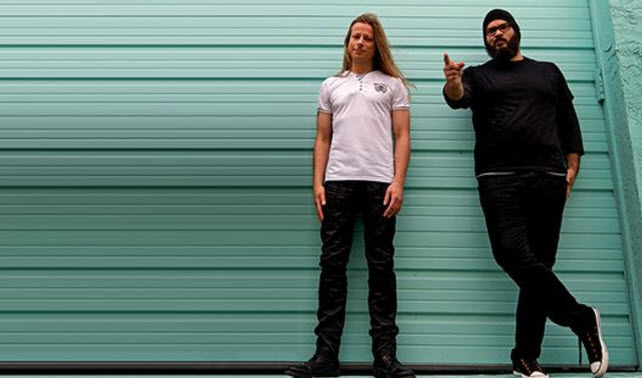 South Florida rock n' roll duo The Von are sticklers for high quality sound. When you listen to their new single 'Nothing To Fear' it's one of the first things to stick out. And it's not just because we're comparing it other local bands who are typically less inclined to worry about the production quality (nothing wrong with that, to each their own). Their recordings are on par with a lot of established rock music you hear on satellite radio.
The members of The Von, Luis and Marek, are publicly unleashing the single 'Nothing To Fear' very shortly. To get more insight into what it took to produce the new single, we decided to ask them about their studio setup and overall recording process (plus some other stuff towards the end). Here were our questions.
The sound quality on 'Nothing To Fear' is great. Tell us about your recording studio.
We're a DIY band, not by choice but by pure necessity like most bands. We took the whole DIY thing way further than most bands though when we decided to record this entire album by ourselves in a studio that we found and further improved. We did it with obsessive attention to detail and borderline OCD behavior. We took the utmost care– something we know is impossible to get when you go into a studio on a budget. We had complete free range and access. It was our space.
Was it just you guys doing the recording and production? Did you bring anyone else in?
We recorded everything in our studio in Boca Raton without an external sound engineer. When we first started producing our own stuff, we were a trio. I was the sound engineer. I'm a self taught sound engineer enthusiast. I picked it up from personal trial-and-error, research, and learning from more accomplished producers and engineers that worked on my Diestra albums– my first band. I was always asking questions and even playing the role of the assistant's assistant, just for the sake of learning.
How big is your studio? 
Everything was recorded in the studio's main live room: drums, guitars, bass, some percussion, and crystal bowls. The room is a pretty decent size. I think it's approximately the size of a 2 car garage with 16 foot ceilings– all with wood flooring. It's nice.
Now for the technical stuff. What equipment do you guys use to make it sound so good?
We used a Toft ATB 16 console to record, which is a redesign of a very famous rock n' roll console from the 70's called the Trident Series 80B. The Toft ATB is kinda deep, kinda thick, and far more "expensive" sounding than the price of the unit would imply. The headroom is sufficient, the EQ is musical, and the mic-pre's are far more competent than the price would suggest. Overall, it's a really solid, full-sounding console. Just the sound I was going for with The Von. I believe Arcade Fire tracked one of their latest album on a Toft ATB. We also used other outboard gear like UAD 4710, which we sprinkled on some mics for the drum kit and the bass cabinet mic setup. We recorded vocals using a Focusrite ISA 220 and a Blue Mouse mic– a very clean sounding preamp and mic combo. We collectively own all of the gear.
As far as microphones, the bass had a pretty wild setup. I mic'd the cabinet with 5 different mics, why not? The one that made it on the album was the Shure SM7B. It really nailed my live bass sound.
Watch the video below to see the setup.
For guitars, we used a stereo setup– one Orange amp and a Mesa amp. We mic'd Marek's guitar with 3 sets of mic per amp, why not? More colors to choose from. I love having lots of options for the mix.
Watch the video below to see the guitar setup.
And for drums, well we ran out of channels, we used all 16 channels.
To capture all this program information we used an UAD Apollo 16 interface which I really enjoy using. What a piece of equipment! It is great, and the UAD plugins– a delight to listen to how they emulate classic outboard gear. We used Logic as our DAW.
On a different note….what's the best part about the South Florida music scene? What could be better?
South Florida has a very eclectic range of bands, you got your washboard bands, indie bands, latin rock bands, country, singer songwriters, and of course hip hop. There is a lot of variety, and then you got your other Floridian music staples like punk rock, hard core, death metal, and bluesy hillbilly bands. You can satisfy your live music cravings any time.
In terms of what could be better, one thing that really needs to be collectively worked out among a lot of venues is the quality or setup of PA systems.
What was the most interesting show you guys played? Tell us about it.
A show that satisfied the ego was one we played at Revolution. It was a benefit event so they had the budget to have proper band green room "refreshments" and things like that. It felt good to play on a real proper PA that would rumble beneath your feet with every kick drum hit. The people responded very well, and we had a good time.
Another gig that stands out was one in Delray Beach. We played on a hip hop bill at an now-closed club Delux. We definitely were the fly in the soup. We turned heads like the hottest chick walking down the street, but for the wrong reason. So we set up, and we get ready to do our thing… everyone is looking at us, not even dancing while the hip hop blasted out the club speakers. We start playing, and by the end of the first song to our amazement we could see the crowd loosen up and enjoy it. It turned out to be a great gig. People got into what we were playing. Totally unexpected, really. The vibe was incredibly good. The people were receptive. It was a very good night. As a bonus, there were lots of hot chicks there too.
You have an entertaining YouTube channel with all kinds of videos. How important is video to the band? What's the thought process when you decide to film?
Video content on the web is essential, and YouTube is king. We know that, and embrace it. Video is a way to let the world known who we are and what we are all about. We do these videos to give an insight into what's going on with the band, and share with people our experience in this journey to spread our music and have it be enjoyed by many. We are not going after the image of the typical hard ass bad ass rock/metal band. Our mission is to give viewers a hole in the wall from which they can peek from.
The thought process is very simple. We always want to keep it short and engaging. This same principle of simplicity transpired into the lyric video that we will release for Nothing To Fear. This one is totally DIY. Marek and I shot it, no one else helped out. It's like one fancy selfie video. We are really proud of it because it's more like a hybrid– kind of a music video, but with kinetic typography . The entire video is one continuous shot with a few jump cuts.
Tell us about the meaning behind your new single 'Nothing To Fear'.
It's a creative mindset– an empowerment to breakthrough any fear based self-limitations. That one can fear something, and let it control their life OR to choose not to allow any kind of fear and live in their true potential of creativity. You have the choice to control your life and not allow external circumstances to control it.
Besides the new song, what is another song you guys are most proud of?
Truthfully, we like all our songs equally since each of them touches different emotions and feelings. Some songs are deeper in intellect, while others might project more energetic musical expressions. Pride is a relative word imposing limits, so instead of one song we feel that there are 3 others after 'Nothing To Fear' of the same magnitude:
Love Supreme, Let It Out and Atomic Sun.
Stream Love Supreme below.
Listen to more of The Von on their website | Follow them on their Facebook Page / Instagram